Garage Door Opener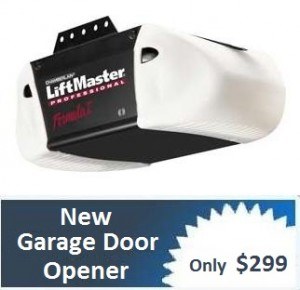 Garage Door Opener Repair and Replacement – Is it time to upgrade your garage door opener or replace your broken one? Fitchburg Garage Door Repair specializes in residential and commercial garage door openers. Our technicians come equipped to repair or replace your garage door opener. With fully stocked trucks we can fix your motor or anything else that might be wrong with the opener. Our experienced technicians can repair any make or model garage opener. If you are looking to replace the one that you have, there are a few different options for you to choose from.
A chain that runs on a track operates a chain drive garage door opener, and this pulls the garage door open. This is the most common garage door opener you will find. If your garage is connected to your home we don't recommend this type of garage opener for the reason that it does make noise and can be a bit loud. Also there is a Belt drive garage door opener that is operated by a rubber belt that also runs on a track. The belt drive opener is almost virtually silent. It has more features for you to choose from so that you may get the best experience from your garage door opener. It does cost a little more but is well worth the cost. Lastly we have a chain drive garage door opener. This type of garage door opener is great for door that is wider and heavier than most typical garage doors. While each garage opener has its benefits we recommend that you use a belt drive opener because it is not disruptive and it is very reliable.
Fitchburg Garage Door Repair is always looking out for your best interest, so we offer regular maintenance check ups and tune-up services to make sure your garage door opener lasts as long as possible. Whether you need just a simple repair or a new garage door opener installation, Fitchburg Garage Door Repair can most definitely assist you with all your garage door opener needs.