Broken Spring Replacement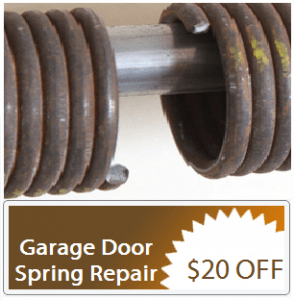 Broken Spring Replacement – Garage doors have many different parts that all work together to make sure your garage door is opening and closing properly. One of the most important parts on a garage door is the springs. The springs are responsible for counterbalancing the weight of the garage door. The lightest garage door weighs about 100lbs and can get up to 400+ lbs. The springs make it possible for the garage door opener to pull the door up. If your spring is broken you will know because your garage door won't open due to the weight of the door. Garage doors have two types of springs, torsion and extension springs.
Torsion springs are located at the top of the garage door opening and they work by winding and unwinding as the door comes up and down. Torsion springs work together to make the garage door open and close very smoothly and evenly. Depending on how often you use your garage door, springs have a life expectancy of about 15 years. Torsion springs are by far the safest spring you can have on your garage door.
Extension springs are located on either side of the garage door. These springs work by extending when the door closes and contracting when it opens. Extension springs work independently of each other and this causes uneven wear and tear. Also with extension springs your garage door make jerk up and down as it is opening and closing. Fitchburg Garage Door Repair recommends that if you have an extension spring system that you convert to torsion springs. Our experienced technicians have all the right tools and knowledge to convert your garage door spring system with no problems. Replacing springs can be very dangerous if you attempt to do this on your own. If it is not done properly you can actually cause more damage to your garage door and create a bigger problem.
You can rest assured that when you call Fitchburg Garage Door repair, your springs will be replaced correctly the first time to ensure safety and save you money and time. Save yourself the headache and have a friendly professional do the job for you.